"Human touch. Our first form of communication. Safety, security, comfort, all in the gentle caress of a finger. Or the brush of lips on a soft check. It connects us when we are happy, bolsters us in times of fear, and excites us in times of passion and love. We need that touch from the one we love almost as much as we need air to breathe."
What do you know about "Cystic Fibrosis"? Have you ever heard about that? Cystic fibrosis is a progressive, genetic disease that causes persistent lung infections and limits the ability to breathe over time. Cystic Fibrosis (CF) can be life-threatening, and people with the condition tend to have a shorter than normal life span. The film "five feet apart" is about the story of two young patients with cystic fibrosis who fall in love with each other despite being forced to stay apart due to their illness.
Stella Grant is a Cystic Fibrosis patient who actively uses social media to cope with her illness and tries to live a normal life. She meets another CF patient, William "Will" Newman, who is at the hospital for a medication trial, in an attempt to get rid of the bacterial infection (B. cepacia) he has in his lungs.
CF patients are strictly kept six feet apart to reduce the risk of cross-infection, as contracting bacterial infections from other CF patients can be dangerous – even life-threatening. Stella is determined to follow the rules, and initially dislikes Will, who likes to break the rules and take dangerous risks sometimes. Stella notices that Will isn't strictly following his treatment regimen and eventually gets him to agree to do so.
Will and Stella begin to fall for each other and secretly go on their first date, staying only five feet apart, Stella explaining that "after all that CF has stolen from me, I don't mind stealing one foot back." They eventually end up at the hospital pool, where they strip to reveal scars from their past surgeries. The next day is Will's birthday and Stella throws him a surprise dinner party with the help of Poe, Stella's best friend and a fellow CF patient.
Poe dies the next day which leaves her devastated. Initially, she pushes away Will. Later realizing how Poe did not get to live his life, Stella decides to live hers and go see the lights with Will. The two end up on top of a frozen pond, dancing around. At the same time back at the hospital, a girl arrives in unsaleable critical condition, having to be in a car accident. Her lungs are a suitable match to Stella. The nurse Barb runs to find her gone from her room, and tries to contact her. Stella receives text messages but ignores them. Stella and Will end up talking on a little bridge above the pond, where he receives a message from his mom (who is at the hospital) about Stella's lungs. Trying to convince Stella to go back to the hospital, she is now unwilling and doesn't see the point of extending her life by 5 years. While talking Stella falls backward and lands back first on the pond, breaking the ice and falling in. Will is able to pull her out, but she is not breathing. He makes the difficult decision to give her mouth-to-mouth resuscitation and saves her. At the hospital, Will convinces Stella to take the lungs. The lung transplant is successful, and Will learns that Stella miraculously did not contract his infection.
When Stella wakes up from her surgery, she sees Will through the glass of her room. He has set up a display of lights outside of her room, saying that his only regret was that she did not get to see the lights, so he brought them to her. He tells her that his drug trial isn't working, and he doesn't want her to have to deal with his eventual death. He gives her a notebook of his drawings of her and confesses his love for her. Will makes her close her eyes because he says he won't be able to leave if she is looking at him. Stella closes her eyes and Will walks away. It is heavily implied that Will dies soon after this encounter.
Years later, Stella can be seen in a video on her channel, saying she misses Will's touch now that she has lost it forever.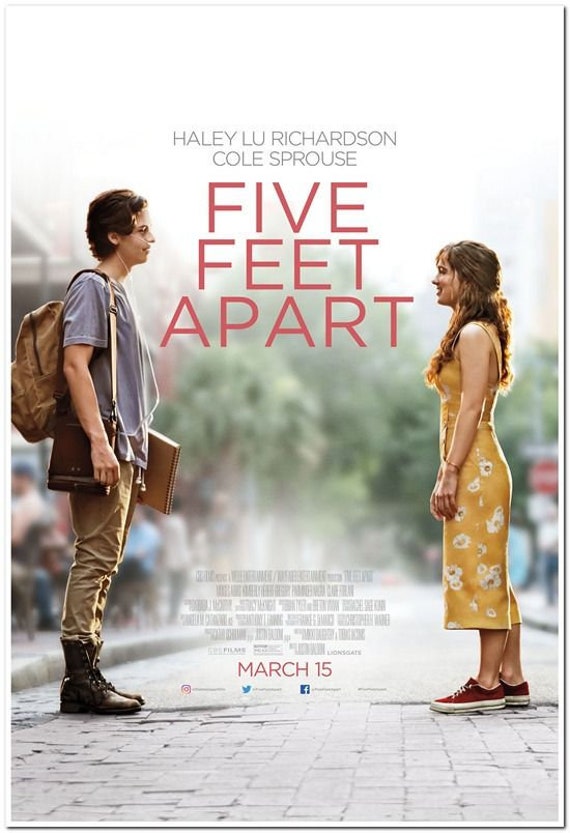 Five Feet Apart is a 2019 American romantic film directed by Justin Baldoni and written by Mikki Daughtry and Tobias Iaconis. Haley Lu Richardson (as Stella Grant), Cole Sprouse (as Will Newman), Moises arias (as Poe Ramirez), and Kimberly Hebert Gregory (as Nurse Barbara) play major roles in the movie. The movie is running for 1 hour and 56 minutes. It was released in the United States on March 15, 2019, by CBS Films via Lionsgate. The film has grossed over $91 million worldwide. Cole Sprouse won the People's Choice Award for the Drama movie star of the year 2019 for this film.
Although Five Feet Apart isn't exactly based on a true story, the movie was inspired by the experiences of those who have this very real disease, which affects 30,000 people in the United States and 70,000 worldwide. In fact, Five Feet Apart could not have been made without the support of Claire Wineland, an extraordinary young woman and CF patient known for her candid videos about life with the disease.  The movie director Justin Baldoni met the Youtuber Claire Wineland and subsequently hired her as a consultant for the film before she died from complications of a lung transplant for CF. The movie is dedicated to Wineland.
The film seems to be a genuine attempt to illustrate how CF patients deal with relationships along with their multiple restrictions. Falling firmly within the 'tragic romance' genre, 'Five Feet Apart' follows the typical clichés one would expect from this by-the-numbers setup. Haley Lu Richardson displays an impressive range and depth in her performance. This allows us to become engrossed with Stella Grant's coping mechanisms while celebrating her small victories. Cole Sprouse as Will is also charming and effective. His dialogues and facial expressions are also remarkable. Stella's friendship with Poe is often far more intriguing. Nurse Barb and her concern for these patients also demonstrate some of the challenges faced by caretakers, and the effect it has on them. If the very notion of this plot makes you go weak in your knees, then this film is definitely for you.
Basically, this movie is trying to say is that "If we can never touch the person we love the most in this world, what's the point of that? " At some point will is so worried that he can't touch Stella saying that "God, you are beautiful and brave. I wish I could touch you".  And Stella also regrets his touch. She says in the end "I never understood the importance of touch. His touch, until I couldn't have it." Those words definitely bring tears into our eyes. Therefore this movie gives us a great message in the end saying that "If you are watching this and you are able, touch him, touch her. Life is too short to waste a second".
Even healthy young people can die. Illness can devastate families, emotionally and financially. It is scary to love someone and it can be even scarier to let someone love you, especially when you are embarrassed by your scars. We all try to find a way to feel in control of something. In their case, they may not live a "normal" lifespan, but in reality, films like this remind us we could all do better at making sure we get the most from the time we have.
But the seemingly insurmountable question remains: Can two people who can't touch really be together?
Words by: Thilakshi Uduwella
Faculty of Agriculture